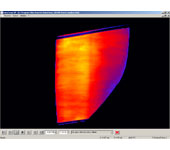 GS150LE Low-E Glass System
Xuất sứ: chính hãng
Nhà cung cấp: Anh Nghi Sơn
Hãng sản xuất: raytek vietnam
Liên hệ tư vấn

SALES ANS

sales.ans@ansvietnam.com
GS150LE Low-E Glass System
| | |
| --- | --- |
| • | Monitors the temperature distribution of a glass sheet even at low or unknown emissivity values |
| • | Reduce set-up time |
| • | Quickly identifies defects and efficiently manages the heat balance in the oven |
| • | Automatically adjusts the emissivity value when changing glass types or coatings |
| • | Replaces frequent manual corrections with automatic control |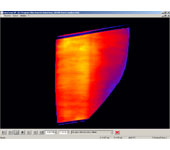 Infrared Thermal Imaging System for Coated Flat Glass (Low-E Glass)
Product Description:
The GS150LE thermal imaging system is specifically designed to monitor and optimize the tempering process of one-side coated flat glass and is based on the proven Raytek GS150 system.

The new GS150LE system features an automatic emissivity correction mode which adjusts the system to changes between different glass loads. It allows the user to set-up predefined recipes to accommodate frequent product changes. By quickly detecting thermal irregularities within the glass and identifying defective heating elements, the GS150LE allows glass processors to improve product quality and uniformity, and reduce scrap.
Features:
Viewing of complete thermal images and temperature profiles
Thermal image "snapshot" by temperature or by an external trigger
Automatic analysis of zone temperature distributions (minimum, maximum, average, gradient, etc.)
Fail-safe alarm logging
Defined product-specific configurations (recipes)
Event-based saving of thermal images with archive function for analyzing temperature data
Easy connection with existing visualization and control systems via flexible system interfaces: OPC or DDE, analog or digital output modules, serial RS232 port, Ethernet