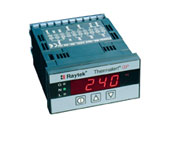 Raytek GP Monitor
Xuất sứ: chính hãng
Nhà cung cấp: Anh Nghi Sơn
Hãng sản xuất: raytek vietnam
Liên hệ tư vấn

SALES ANS

sales.ans@ansvietnam.com
Raytek GP Monitor
•

Accepts any 0–5 V or 4–20 mA sensor input

•

Accepts type J, K, E, N, R, S, and T thermocouple inputs

•

Compact 1/8 DIN monitor

•

Large 4-digit LED display

•

Universal 110/220 VAC power

Product Description

The GP Temperature Monitor provides a compact, easy-to-use interface and display for process instruments. Accepting inputs from any 0-5V sensor, 4-20mA sensor or thermocouple type J, K, E, N, R, S, T, the GP monitor can be used with many Raytek noncontact infrared temperature sensors. The monitor also provides a user-defined 4-mA or thermocouple output, and two adjustable setpoints/deadbands to control the +5V alarm outputs or optional 3A mechanical relays.

The GP monitor accepts 110-220 VAC power and provides a 24 VDC/50 mA excitation voltage, capable of providing loop power to external sensors. For signal processing requirements, the monitor provides Peak Hold, Valley Hold, Averaging features and a user-adjustable offset. Best of all, there are no internal jumpers used for setup all monitor functions are configured via the front panel.

Versatile. Compact. Value-priced. All reasons to standardize on the GP monitor for your process monitoring requirements.