Menu sản phẩm
Hổ trợ trực tuyến
Mr. Cảnh

canh.ans@ansvietnam.com

0938.214.498

Ms. Tuyen

tuyen@ansgroup.asia

0903.051.748
Lượt truy cập
| | | |
| --- | --- | --- |
| | Đang online | 2 |
| | Lượt truy cập | 153403 |
ThermoView Pi20 Cooling Enclosure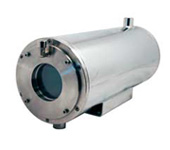 Loại sản phẩm: List of Accessories & Calibration Tools
Mã sản phẩm: ThermoView Pi20 Cooling Enclosure
Nhà cung cấp: Anh Nghi Sơn
Hãng sản xuất: Raytek Vietnam
Xuất sứ: chính hãng
Giá : Vui lòng liên hệ
ThermoView Pi20 Cooling Enclosure
| | |
| --- | --- |
| • | Protective enclosure designed to shield ThermoView™ Pi20 camera electronics |
| | |
| • | Resistant to high temperatures up to 200°C/393°F |
| | |
| • | Provides water cooling and air purge |
Product Description
The ThermoView Pi20 Cooling Enclosure is designed to protect the ThermoView Pi20 Fixed Thermal Imager from exposure to high ambient temperatures up to 200°C (393°F) in various high temperature applications, such as metals manufacturing, glass processing, and oven/furnace applications.
General Specifications
Weatherproof rating
(according to EN60529):
IP67 (NEMA 4)
Ambient temperature:
200°C (393°F)
with 6 l/min (1.5 gal/min) of water at 20°C (68°F) inlet temperature
and 6 bar (87 PSI) for front air barrier
Air pressure:
Recommended: 4 to 6 bar (58 to 87 PSI)
Construction:
Stainless steel housing, AISI 316L, polished
Window material:
Zinc Selenide
Cable gland:
M12x1.5, threaded holes on the rear flange
Weight:
13 kg (29 lb), without camera
CE according to EN61000-6-3, EN60950, EN50130-4. RoHS compliant.
Our applications engineers or your local representative can assist you in determining if the ThermoView Pi20 enclosure is the right solution for your specific application needs.